Review: Hada-Labo Super Hyaluronic Acid Moisturizing UV Milk Moist Emulsion SPF50+ PA+++
For the past month, I had been using Mentholatum
Hada-Labo Super Hyaluronic Acid Moisturizing UV Milk
(also name as UV Moist Emulsion) as my daily sunscreen protection on my face.
This was provided by Hada Labo, it was actually launched on April 2012.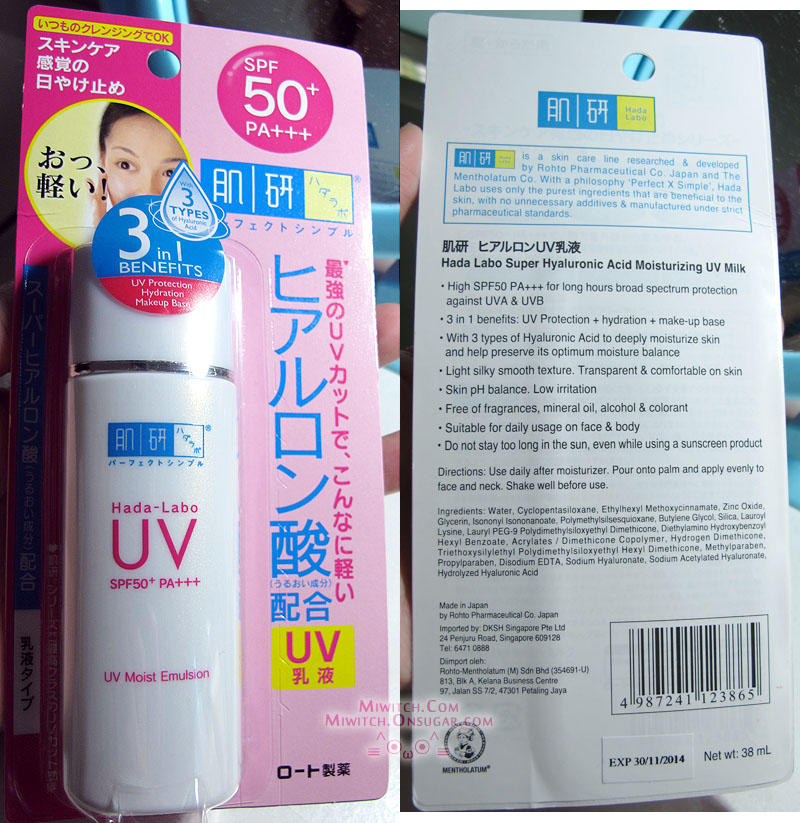 Product Write-up
Hada Labo Super Hyaluronic Acid Moisturizing UV Milk with SPF50 PA+++.
It's a 3-In-1 Sun Protection which offers High Sun Protection While Caring For Skin.

This multipurpose UV milk has 3-in-1 benefits: UV Protection, Hydration, and Make-Up Base.
1) With SPF 50 PA+++, users can be assured of a high, broad-spectrum protection against UVA and UVB.
2) Like other products in the brand, Hada Labo Super Hyaluronic Acid Moisturizing UV Milk SPF 50 PA+++ reaches deep into the skin to moisturize the skin with three types of Hyaluronic Acid. It locks in moisture for a soft, supple and radiant skin all day.
3) As a Make-up base, cosmetics can glide easily on the smoother skin after applying it. The light, water like texture makes it easy for an application, and is quickly absorbed without stickiness. The UV milk is transparent, leaving no white residues.

The UV milk is gentle on skin, as it is free of artificial ingredients such fragrances, mineral oil, alcohol and colorant that may burden the skin. This UV milk also keeps the skin's pH balanced, and is rigorously tested for low skin irritation.
It is suitable for daily usage on the face, neck and body.
38ml product. It looks pretty small and little to me maybe because of the slim bottle shape.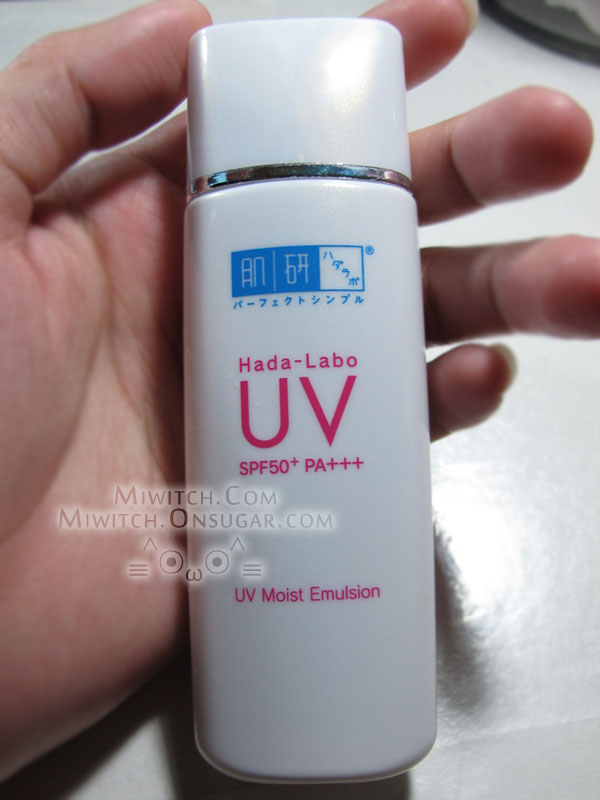 The UV emulsion appears to be like milky lotion (basically is just what the product name already says) and greasy by the look of it.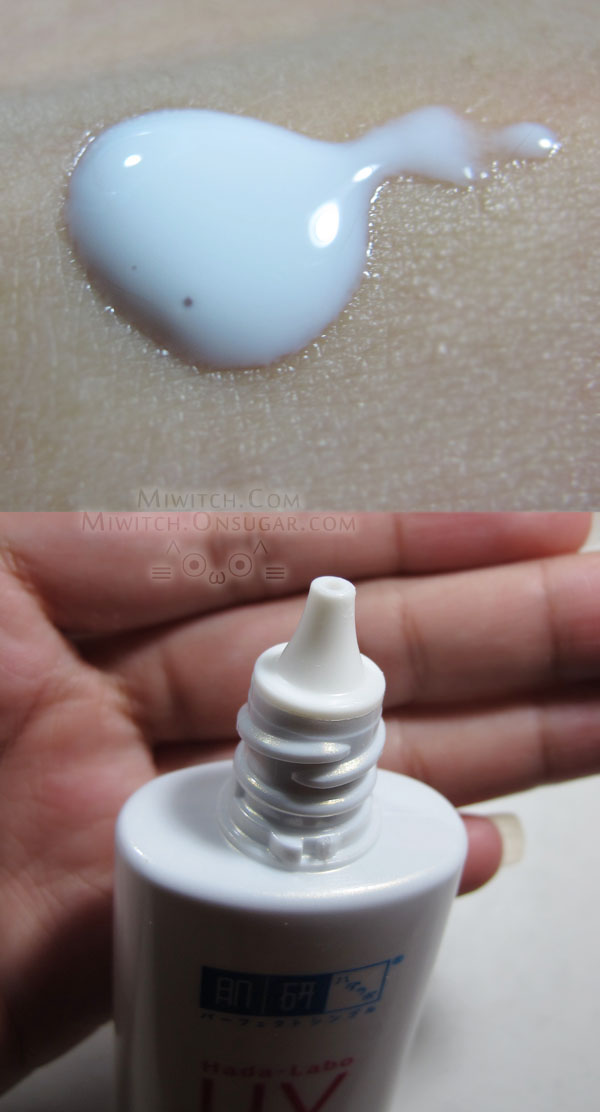 Swatch

Routine
I used UV Milk after my serum, then I will skip moisturiser and put on make-up base. Reason being that the UV Milk already acts as a moisturiser for me, if I add another layer of moisuriser, it will make my skin feels heavy and alittle greasy.
Although it can act as a make-up base as well, I still prefer to put on my own make-up base ontop of the UV Milk due to there are areas like skin discolouration or fine lines that I need to combat with using my own make-up base.
Texture
- It feels lightweight
- It's feels as greasy as it looks (initially)
- It took awhile for the UV milk to be absorb into skin around 2-3 minutes and the skin surface still feels greasy until after I lightly pat it, it starts to get absorbed into the skin.
- Lastly leaving a slight gloss film over the skin surface, the greasiness starts to fade away.
Review
- In the beginning, I was not fond of the greasy texture of the UV Milk. I need to blend it out, pat it long enough for it to be fully absorbed.
- The UV Milk doesn't give any white cast at all (which is one of the factor I like most!)
- Once it gets fully absorbed to skin (usually faster when I do the light and fast patting motion), the greasiness amazingly is gone!
- The skin feels slightly moisturised and skin surface has this little glossy look
- Once I tissue over, the glossy film is gone too
For 1 week, I skipped using Hada-Labo and tried using other sunscreen but later realised the good of Hado-Labo because its doesn't give white cast and it doesn't feel thick and greasy after application!
For the other sunscreen or sunblock that I use, some of which comes in a thicker consistency. It would sometimes make my makeup 'move' due to the sunscreen not able to be fully absorbed by my skin, it stays ontop of my skin surface and when I wore makeup for long hours, my foundation looks like it's floating around ontop of my skin surface instead of grabbing onto the surface. Causing the makeup to wear off easily.
Only after I skipped Hada-Labo and start using the other sunscreen, my skin makes me feel that I miss Hada-Labo's UV Milk. (Yes, I really feel like that! My skin kinda tells me, "Hey! I prefer Hada-Labo! Pls use that!" hahahax~)
And so once again, I grabbed the UV Milk, liking the after feel more and more everyday.
Price
Hada-Labo Super Hyaluronic Acid Moisturizing UV Milk SPF50+ PA+++ (38ml)
SGD$19.90
Where to buy?
Exclusively in Watsons stores
Join Hada-Labo!
Hada Labo(sg) Facebook:
https://www.facebook.com/hadalabosg
and parcipate in upcoming free sampling campaign and giveaways
Till then! Cheers!

(●♡●)
Product names written and coloured in turquoise were given by its company to me for trial & review.